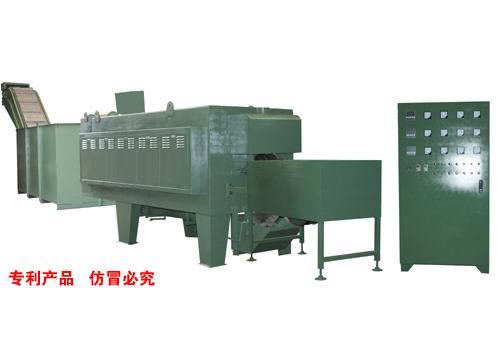 Continous protective atmosphere quenching furnaces Admin Edit
Product name: Mesh-belt furnace with muffle pot

DATA:

Model: TSL-66-9
Power: 66kw
Rated temperature: 920℃
Productivity:110kg/h
APPLICATIONS:

Suitable for heat treatment(e.g.nitrocarburizing,quenching and carburization under controlled atmosphere)of medium or small sized mechanical parts such as spring,spring cushion,standard element,bearing,self-tapping screws,transmission chain,vehicle fittings,metal parts and parts of an apparatus for knitting.
PERFORMANCE AND FEATURE
1)Reasonable structure,integral automatic control system,safe,reliable,and easy in operation and maintenance.
2) Ideal temperature distribution in the hearth,realiable,uniform and good quality of treated pieces
3) Full-fiber line, fast temperature rise, and good temperature-retention and energy-saving effects and low power consumption.
4)The mesh belt runs steadily and is infinitely adjustable
5) It is together with washing machine,feeding machine, distribution machine,quenching tank and tempering furnace will form an automatic line
6)We can make design and manufactur as per client-required special specifications and we also accept business of manufacture,overhaul and reform of other types of electric furnace.
SPECIFICATION

(KW) (℃) (LXWXH MM) (KG/H)
TSL-35-9 35 920 2200X220X50 60
TSL-45-9 45 920 2500X300X50 80
TSL-60-9 60 920 2800X300X50 100
TSL-70-9 70 920 3000X300X60 120
TSL-75-9 75 920 3600X300X80 150
TSL-90-9 90 920 4700X300X80 200
TSL-120-9 120 920 4700X400X100 250
TSL-150-9 150 920 4700X500X120 300
TSL-180-9 180 920 4700X500X160 350
TSL-200-9 200 920 4700X500X200 400