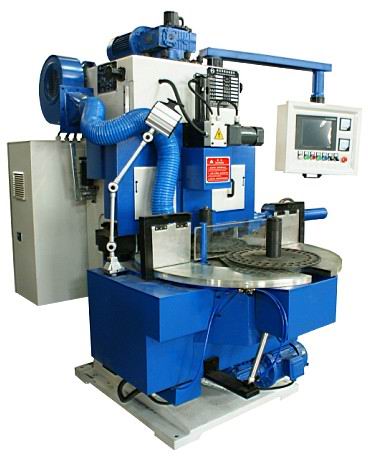 Product Description
Product Attribute
PERFORMANCES AND FEATURES

(1)Our spring grinding machine is mainly used in synchronized grinding of double surface of compression spring, including cylindric spring,conical spring and double conical spring,
(2)The machine adopts two vertical grinding wheels to grind springs put on feeding plate which pass through two grinding wheels.Feeding speed of upper grinding wheel can be adjusted.Through manual feeding mode or automatic feeding mode spring can get the preset height, You can obtain the greatest capacity of grinding according to the pressure. The machine has automatic compensation,automatic reset,giving alarm function,through man-machine dialogue manner and programmed on the computer screen, convenient operation and high production efficiency, it is ideal equipment for mass springs double surface grinding.
(3)Our spring grinding machine double feeding plate add one feeding plate on the basis of the one feeding plateing, the two feeding plates can be exchanged circularly and be positioned by air cylinder. You can select manual or automatic mode for changing feeding plate. Loading and unloading the springs during grinding,the grinding efficiency of spring can be improved greatly. It can be used for one feeding plate grinding machine.
Main Technique Parameter Of CNC Spring End Grinding Machine

MODEL,
Main Parameter,

Name

CRP180-6B

CRP180-6B-S

CRP250-9B

CRP250-9B-S

CRP250-12B

CRP400-12B

Specification Of

Grinding Wheel(mm)

Φ400×55

Φ400×55×203

Φ450×65

Φ450×65×50

Φ660×100×170

Φ660×100×170

Diameter Of Feed Plate(mm)

Φ580

Φ420

Φ740

Φ580

Φ740

Φ740

Wire Diameter Of

Grinding Spring(mm)

Φ0.8~Φ6

Φ0.8~Φ6

Φ1~Φ9

Φ1~Φ9

Φ3~Φ12

Φ3~Φ12

Outside Diameter Of

Grinding Spring (mm)

Φ8~Φ80

Φ8~Φ80

Φ10~Φ100

Φ10~Φ100

Φ20~Φ130

Φ20~Φ130

Height of grinding spring(mm)

10~180

10~180

20~250

20~250

20~250

150~400

Outside Dimensions (mm)

length×width×height

2050×1660×2120

2050×2060×2120

2215×1900×2400

2215×2265×2400

2600×2100×2800

2600×2100×3060

Motor

Power

Upper Grinding Wheel Motor(KW)

4

4

5.5

5.5

12.5

12.5

Under Grinding Wheel Motor (KW)

4

4

5.5

5.5

12.5

12.5

Feed Plate Motor (KW)

1.5

1.5

1.5

1.5

3

3

Change Feed Plate Motor(KW)

/

1.5

/

1.5

/

/

Elevating Motor

Of Upper Grinding Wheel(KW)

1.5

1.5

1.5

1.5

2.2

2.2

Elevating Motor Of Under Grinding Wheel (KW)

0.18

0.18

0.18

0.18

0.37

0.37

Blower (KW)

1.5

1.5

1.5

1.5

1.5×2

1.5×2

Compensated Motor Of Upper Grinding Wheel(KW)

0.14

0.14

0.14

0.14

0.14

0.14

Total Power (KW)

12.82

14.32

15.82

17.32

33.71

33.71

Rotate Speed Of Feed Plate(r/min)

Adjustable

Adjustable

Adjustable

Adjustable

Adjustable

Adjustable

Rotate Speed Of Grinding Wheel(r/min)

1450

1450

1450

1450

965

965

Displacement

Distance Of Grinding Wheel(mm)

Under Grinding Wheel(mm)

180

180

250

250

250

250

Under Grinding Wheel(mm)

40

40

50

50

70

70

Working Accuracy

Verticality

≤0.025Ho

≤0.025Ho

≤0.025Ho

≤0.025Ho

≤0.025Ho

≤0.025Ho

Roughness(Ra)

≤12.5

≤12.5

≤12.5

≤12.5

≤12.5

≤12.5

Power source

Three Phase 380VAC50Hz

Three Phase 380VAC50Hz

Three Phase 380VAC50Hz

Three Phase 380VAC50Hz

Three Phase 380VAC50Hz

Three Phase 380VAC50Hz

Net weight of the machine (KG)

2200

2500

2800

3500

5500

6000



















| | | | |
| --- | --- | --- | --- |
| Raw Material: | Others | Machine Type: | Others |
| Extra Services: | End Forming | Automation: | Automatic |
| Certification: | ISO 9001:2000 | Material / Metal Processed: | Others |
Min. Order: 1 Set/Sets
Trade Term: FOB,CFR,CIF,EXW,
Payment Terms: T/T
Place of Origin: Zhejiang, China (Mainland)
Means of Transport: Ocean, Air, Land
Packing: as required
Power: Cnc
Raw Material: Others
Machine Type: Others
Extra Services: End Forming
Automation: Automatic
Certification: ISO 9001:2000
Material / Metal Processed: Others