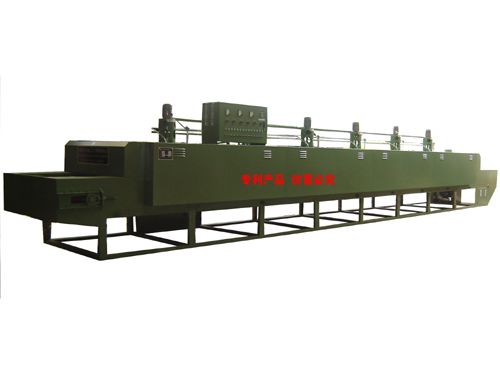 RJC690 continuous hot-blast tempering furnace Admin Edit
IMPORTANT DATA:
Model: RJC690
Outside Dimension (LxWxH mm) :11200X1200X2000
Hearth Dimension (LxWxH mm) : 9000X600X220
Power: 150kw
Tempering Temperature: 500(℃)
Tempering Time: 30-150Min
Diameter of Tempered pieces: 1-20mm
Productivity: 800-1200kg/h
Weight of furnace body: 5500kgs


PERFORMANCES AND FEATURES


1.It's suitable for continuous tempering,finalizing the design and drying of massive work pieces such as spring,roadspring,spring cushion,copper,
chain, standard element, vehicle fittings,metal work,metals products,enameled wire,welding electrode and hardened parts.
2.The continuous hot-blast tempering furnaces,also called belt conveyance type electri-controlled tempering furnace,adopts imported PID intelligent temperature controller and integral automatic control system and is able to as per technical requirements freely preset furnace temperature within 500℃ at control precision ±3℃.It is also equipped with a hot air agitator to reach a precise and even furnace temperature and render the tempered pieces reliable and high quality.
3.The stainless steel mesh belt runs steadily, is infinitely adjustable and able to continuously and automatically operate and thus greatly enhances productivity and reduces labor intensity.
4.It is novel in structure and uses full-fiber liner,which is characterized by
Fast temperaature rise, low power consumption,high utilization ratio of heat and good energy-saving effects and after reaching constant-temperature, its power consumption is not above 50% of the rated power.
5.It is simple, safe and reliable in operation,needs no sodium nitrite, and keeps ground clean and free of surroundings contamination.
6.It has complete types and specifications and long service life,is easy in overhaul,and low in investment and its price is below 30% of imported similar products. It can meet technical requirements of heat aging treatment of various springs and chains and is the ideal heat treatment equipment.
7.The product may be dred as designed and manufactured as per clients' special requirements.
8.The clients shall select model of the tempering furnace on basis of the output,diameter and required time of the tempered pieces.
9.We also supply fittings favorably of electric furnaces such as electric heating tubes,instruments,meters,and alumino-silicate refractory fiber products and also accept business of manufacture,overhaul and reform of other types of electric furnaces.
ALL MODEL SPECIFICATION

Outside size Hearth size Power Tem Tempering Product Dia Productivity Weight
time
(LXWXH MM) (LXWXH MM) (KW) (℃) (Min) (MM) (Kg/h) ( Kg)
RJC206 1600X750X1200 600X200X60 6 500 1.5-30 0.1-3 10-20 200
RJC210 2000X750X1250 1000X200X90 8 500 2.5-40 0.1-6 18-25 250
RJC215 2600X750X1250 1500X200X90 12 500 4-50 0.1-6 25-35 350
RJC315 2600X950X1250 1500X300X90 16 500 4-55 0.1-6 35-50 750
RJC320 3300X850X1100 2000X300X90 20 500 6-60 0.1-6 50-70 950
RJC420 3300X950X1320 2000X400X90 26 500 6-60 0.5-6 60-80 1000
RJC425 3800X950X1320 2500X400X100 30 500 6-60 0.5-6 70-90 1200
RJC430 4300X950X1300 3000X400X100 35 500 8-60 0.5-6 80-120 1300
RJC440 6100X1050X1600 4000X400X120 43 500 12-60 1-12 130-180 2200
RJC520 4100X1100X1600 2000X500X100 30 500 8-50 0.5-10 80-100 1400
RJC530 5100X1100X1900 3000X500X120 40 500 10-60 0.5-10 150-180 1800
RJC540 6100X1100X1900 4000X500X130 50 500 12-60 1-14 200-250 2400
RJC550 7100X1100X1900 5000X500X130 60 500 14-90 1-16 250-300 2800
RJC560 8100X1100X1900 6000X500X150 75 500 14-90 1-16 300-500 3600
RJC590 11200X1100X1950 9000X500X200 135 500 30-180 1-18 800-1000 5000
RJC630 5100X1200X1900 3000X600X120 48 500 10-60 1-12 160-200 2200
RJC640 6100X1200X1900 4000X600X130 60 500 12-60 1-14 200-300 2600
RJC650 7100X1200X1900 5000X600X130 75 500 14-90 1-16 300-400 3200
RJC660 8100X1200X1900 6000X600X150 90 500 14-90 1-16 360-500 3800
RJC680 10100X1200X2000 8000X600X200 135 500 25-150 1-20 700-1100 5000
RJC690 11200X1200X2000 9000X600X220 150 500 30-180 1-20 800-1200 5500
RJC730 5100X1300X1900 3000X700X120 55 500 10-60 1-14 180-220 2500
RJC740 6100X1300X2000 4000X700X180 68 500 12-60 1-16 250-350 3200
RJC750 7100X1300X2000 5000X700X200 92 500 14-90 1-16 320-450 3500
RJC760 8100X1300X2000 6000X700X220 103 500 14-90 1-20 400-600 4300
RJC840 6100X1400X2000 4000X800X180 86 500 12-60 8-50 280-400 4000
RJC850 7100X1400X2000 5000X800X220 103 500 14-90 8-50 400-600 4600
RJC860 8100X1400X2000 6000X800X260 120 500 14-90 8-50 550-800 5200
Download Attachment