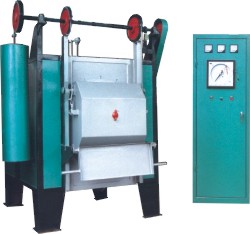 950℃ ENERGY-SAVING BOX-TYPE RESISTANCE FURNACES. Admin Edit
Summary:

RX3 series furnaces is composed of shell,lining,heating elements.door and electric cabinet. The furnace lining is built of 0.6 ultra-light refractory bricks and refractory fibber,The heating elements is made of spiral shape high resistance alloy wires, placed in the both sides of the furnace hearth and hearth bottom. Workpieces are put on the furnace bottom plate, furnace door can be lifted or falled through hand wheel. A travel switch is installed above the door, when the door opens power is cut off so as to ensure the safety of operating personnel.


APPLICATION:

The series 950℃ box-type resistance furnace is a cycle type furnace, mainly used for metal parts in the air to normalize,anneal,quench.
RESISTANCE FURNACES PARAMETER

NAME
UNIT
RX3-15-9
RX3-30-9
RX3-45-9
RX3-60-9
RX3-75-9
Rated power
kw
15
30
45
60
75
Rated voltage
V
380
380
380
380
380
Rated temperature
℃
950
950
950
950
950
Phase
2
3
3
3
3
Frequency
Hz
50
50
50
50
50
Element connection
Series connection
Y
Y
Y.Y
Y.Y
Hearth dimensions
Length
mm
650
950
1200
1500
1800
Width
mm
300
450
600
750
900
Height
mm
250
350
400
450
550
Empty hearth heating time
h
≤2.5
≤2.5
≤2.5
≤3.0
≤3.5
Power loss of empty hearth
kw
≤5
≤7
≤9
≤12
≤16
Furnace temperature uniformity
℃
≤20
≤20
≤20
≤20
≤20
Max loading weight
kg
80
200
400
700
1200
Outside dimensions
Length
mm
1450
1920
2220
2690
3030
Width
mm
1300
1620
1930
2180
2350
Height
mm
1790
2140
2190
2240
2440
Weight
T
1.1
2
2.5
4.5
5.2